The number of people age 65 and over represents an increasingly larger proportion of the provincial population. This trend is expected to continue in the coming years.
The Facts
It is estimated that 2.4 million Canadians over 65 and will require continuing care support, both paid and unpaid, by 2026 according to the 2015 report from the Conference Board of Canada (CBC). By 2046, that number will reach nearly 3.3 million. According to a study conducted by the MetLife Mature Market Institute, approximately 10 million people over the age of 50 are having to care for ageing parent or relative.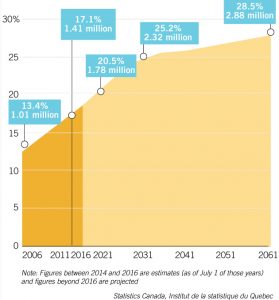 Studies estimate that 2 out of 3 informal caregivers are women, many of whom are middle-aged mothers with children or adult children living in their  households. MetLife says the cost of placing a parent or loved one into a professionally assisted home can be daunting. that kind of care averages about $42,000 a year. A private room in a nursing home averages more than $87,000. Here is an approximate accounting of caregiving costs according to caregiverlist.com
Senior Home Care: $15 – $25 per hour for hourly care and $150 – $350 per day for 24-hour live-in care.
Nursing Home Facility: $180 – $400 per day with a variety of additional fees for beauty salon services, special meals and activities.
Assisted Living Community: $4,000 per month + additional fees for meals, special services and activities + additional cost for private duty caregiver services (see Senior Home Care costs above).
Continuing Care Retirement Community: $250,000 down payment on average + $4,000 monthly rental fee (possibility of partial down-payment refund depending on length of stay and care needs).
As the number of places available in public residential care facilities continues to shrink, the proliferation of private residences — which critics argue are poorly regulated — has sometimes led to horrific consequences, with cases of neglect, mistreatment and outright abuse of the elderly.
Around 1 in 6 people 60 years and older experienced some form of abuse in community settings during the past year.
Rates of elder abuse are high in institutions such as nursing homes and long-term care facilities, with 2 in 3 staff reporting that they have committed abuse in the past year.
Elder abuse can lead to serious physical injuries and long-term psychological consequences.
Elder abuse is predicted to increase as many countries are experiencing rapidly ageing populations.
The global population of people aged 60 years and older will more than double, from 900 million in 2015 to about 2 billion in 2050.
What to do
Retirement may go by different names such as "independent living," "non-assisted living," or "assisted living", be it as it may what we call it, the one thing we know is that the population is ageing and planning for your family and loved one's care is a decision that is fast encroaching upon you. What makes today different from yesteryear is that technology is providing families with more tools to contend with ageing family members. There are Smart solutions that are both practical and affordable! Compared to the assisted living community options. Depending on the size and location of the accommodations you are seeking in a monthly retirement community, monthly fees may range anywhere from $1,475 to $6,000. When you start to add things up, the obvious question arises "what to do?" Well if we take into consideration one very important factor its "What does you ageing loved one want?" According to American Association of Retired Persons (AARP) 90% of seniors want to stay in their own homes as they age. Understandably so, it is familiar to them, they feel autonomous and in control of their life. So what options are on the table. As we eluded to earlier Smart technologies have arrived and are providing high-tech monitoring systems and other gadgets that enable seniors to age in place independently, while giving you and your family members peace of mind in the process. What's more, home-based tech tools could be far less expensive than moving into an assisted living environment. Foxsecur's wellness independent living solution integrates a suite of sensors and machine learning devices that generate learning algorithms based on your ageing loved ones behaviors. These tools proactively detect any behavioral deviations such as changes in activity, sleeping and eating patterns, bathroom visit frequency and medication adherence and notify you of any abnormal activities even in situations like wandering out of the home or falls. In the end your ageing loved one's happiness, coupled with Foxsecur's wellness solution can prove to be a win win situation.